Lately, I've felt like I've been losing a little control of my life. The past couple of months have felt strangely bleak. Nothing catastrophic has happened but my life has lacked order and joy: I've been stressed and exhausted at work and aimless and out of sorts at home.
Basically the situation can be best described with a series of Pete Campbell gifs: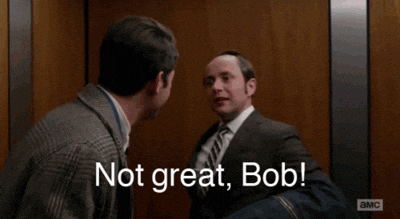 (Source)
Yup, that's about it.
Barring some major overhaul that could change everything and make it better, the only answer to avoid either burning out or going a wee bit bonkers was to take a small break.
Over Anzac weekend I took a couple of extra days off to clear my head and feel like a normal human again.
It was nice to take the opportunity to get out and about and avoid getting stuck in my own head for a few days.
I took a trip to the Dowse Art Museum, a fabulous space with a focus on contemporary art. I particularly enjoyed Liu Jianhua: Transfer, an exhibition showcasing two large-scale installations of the ceramicists' work: Square, featuring pools of gold porcelain on the floor in a darkened room and Regular Fragile, a series of everyday objects – rolling pins, handbags, hats, teddy bears – in white porcelain (pictured below).
I ought to make the effort to venture out to Lower Hutt to visit this gallery more often.
I went to see Hunt for the Wilderpeople, Taika Waititi's delightful new film. As I bought my ticket I realised it had been a few years since I'd seen a New Zealand film at the cinema, and it was exactly what I needed: hilarious, warm-hearted and nostalgic.
On Sunday I visited Katherine Mansfield House and Garden in Thorndon. Although she's one of my favourite writers and I've always intended to visit her birthplace, this was the first time I'd actually made it there. The house provides a fascinating insight into her early life, and the setting that inspired some of her greatest stories.
At the time of my visit there was also a costume exhibition about Women of Empire, featuring the fascinating stories of a number of New Zealand and Australian women – doctors, nurses, volunteers, campaigners – whose lives were affected by World War 1.
I rounded off my bumper long weekend with a walk in Centennial Reserve, a beautiful hillside nature reserve near my home. There are a number of walking and mountain biking tracks, with names like Conviction, Bootleg, Jailbreak and Repeat Offender, references to the nearby Wellington Prison.
I opted for the Conviction pathway, which has a fairly gentle gradient and is therefore suitable for woefully unfit couch potatoes like me. It was gorgeous and tranquil, and a pleasant escape from the suburban surroundings. The views at the top were also suitably rewarding.
I might have a crack at Repeat Offender next time.
Though it was only a short break (and I still desperately need a holiday), those few days of leisure really helped to clear away the cobwebs and put my overworked mind at ease. It also had the added benefit of making me feel more connected to Wellington.
I feel more relaxed and very determined to make some changes to improve my current situation. Some of those changes could take some time to achieve but in the meantime I can at least make the effort to explore and engage with my surroundings. I'd rather keen on taking another mini-break just like this very soon.