It is a cruel twist of fate for the world to lose two great luminaries in one lamentable week. I'd just barely begun to come to terms with David Bowie's death when I heard the dreadful news that the wonderful Alan Rickman was gone as well.
Although I was never fortunate enough to meet him, I adored Alan Rickman. He was a terrific actor: charismatic, versatile and always compelling. And oh, that voice. I have a weakness for great voices and his was incomparable. Who wouldn't be enchanted by that resonant and distinctive voice, and his languid and sonorous delivery?
I think my first exposure to him was  as the menacing Sheriff of Nottingham in Robin Hood: Prince of Thieves. I was only about seven or eight and found him scary but fascinating.
He was so appealing in his villainous roles, and, like many, I have a soft spot for his masterful performance as Snape in the Harry Potter films. But I love him best in his quieter roles.
I fell for Alan Rickman when I first saw Sense and Sensibility many years ago. Rickman brought Colonel Brandon to life with a quiet dignity that was utterly swoon-worthy. He transformed the "silent and grave" character from the novel into a memorable and beloved figure. Sure, that "blaggard" Willoughby is dashing, lively and romantic, but he's also a reckless cad who leaves ruined reputations and broken hearts in his wake. Brandon, on the other hand, is a patient, kind and unassuming man whose loyalty never falters. He remains quietly devoted to Marianne even when it seems for the longest time that she might never return his love.
Rickman's performance as Colonel Brandon is filled with small moments and subtle gestures. He is always on the periphery, yearning for Marianne while he watches her fall under Willoughby's raffish spell. His passion for her is evident in every lovelorn look and pained glance, but he is always gracious and dignified. We feel his agony as Marianne falls ill and he waits by her side feeling helpless and lost.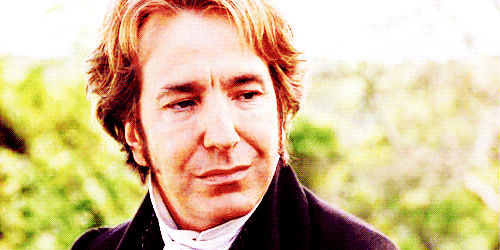 In Rickman's hands, Colonel Brandon is an honourable romantic hero who demonstrates that a kind and generous nature is far more attractive than charm and carelessness, and that actions really do speak louder than words.
Over the weekend I watched Truly, Madly, Deeply and fell for Alan Rickman all over again. It is to my great shame that I had not seen this delightful, moving film before. Rickman is wonderful as Jamie, the deceased partner of Nina (Juliet Stevenson, magnificent as always), who returns as a ghost and helps her deal with her grief. Jamie is loving, clever and grumpy and Nina takes immense comfort in her reunion with him…until he becomes a nuisance, turning the heating up, rearranging her flat and inviting all his dead mates around to watch films at all hours. Every scene between Jamie and Nina is gorgeous.
Truly, Madly, Deeply is a perfect demonstration of Rickman's considerable range as an actor, and his beautiful, sensitive performance is one to cherish.
Many will remember Alan Rickman as the greatest of the screen villains, and rightly so. I will remember him fondly as the the consummate gentleman.
Though I didn't know him, he  meant a great deal to me. It is still hard to believe that this irreplaceable man is gone, but we can be thankful for the brilliant work he leaves behind.
Thank you, Alan Rickman.